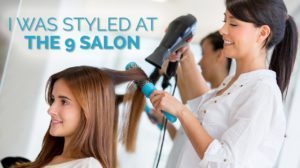 The 9 Salon is looking for an outstanding hair stylist to be part of our team. We have a beautiful salon in the 7th Street Plaza, and provide the highest of quality hair services in Redmond. The 9 Salon has been built on a love for style, people, and perfection. We are looking for a fun, reliable stylist that wants to work full time, and will become part of our Salon family for the long haul. If you are a highly skilled hair stylist, top notch listener, and love working with people, we would love to hear from you.
This is a commission position, so we will provide your space, chair, color, and back bar and you will receive a consistent paycheck. It is a perfect situation for a stylist that just wants to focus on hair, and not worry about taxes, inventory, and the other headaches of running a business or leasing a chair. And the way our commission scale is organized, chances are good you would net more money than leasing a chair!
We are at the top of Google search with excellent reviews, and get about 30 new clients per month, so expect to build fast!
If this sounds like a position for you, please fill out the form below with a cover letter, % of transferable clientele, resume, headshot.